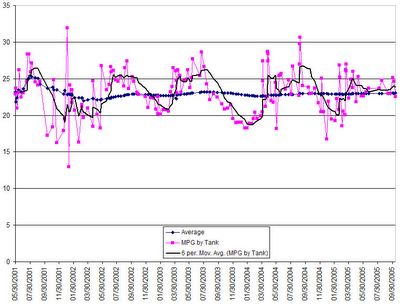 Yes, I have a graph of my gas usage. And yes, you can tell when I went on vacation by looking at the gaps where I didn't buy gas for a few weeks.

An analyst would be quick to point out that my gas mileage is cyclical... actually, I believed it was cyclical through anecdotal evidence and then proved it with said graph. The graph also proves that Michelin MXV4 Plus tires do not improve your gas mileage as advertised. Air filters have also done nothing.

The only thing that affects the trend line is my travel schedule. Road trips result in a healthy uptick. Three week trips to Montreal, Vancouver, Washington, and Japan over the summer of this year caused the this summer's uptick to never show up in the 6 month moving average.

Surprising, it seems like garaging my car in the winter helps. I had the use of the garage for the winters of 2002/2003 and 2004/2005. No garage in 2003/2004. The 2001/2002 winter should be ignored since the crappy winter gas mileage is hidden by the road trips back home from Pittsburgh for various holidays, as well as road trips for mid-semester break and spring break. Note the high peaks and low valleys.

Yeah... I'm a dork. Go amuse yourself by looking at some photos (see right nav).